Zoho CRM Email Set-Up with O365 App-Specific PW
Follow these instructions for setting up your O365 Email sync to Zoho CRM when Microsoft two-factor authentication in activated:
Follow App Specific PW steps first, then copy PW

Then login to CRM, click gear to access Settings/Channels/Email

Choose Office 365 option, choose IMAP option

Enter your email dsiplay Name, email address and paste the PW you copied earlier

Save your settings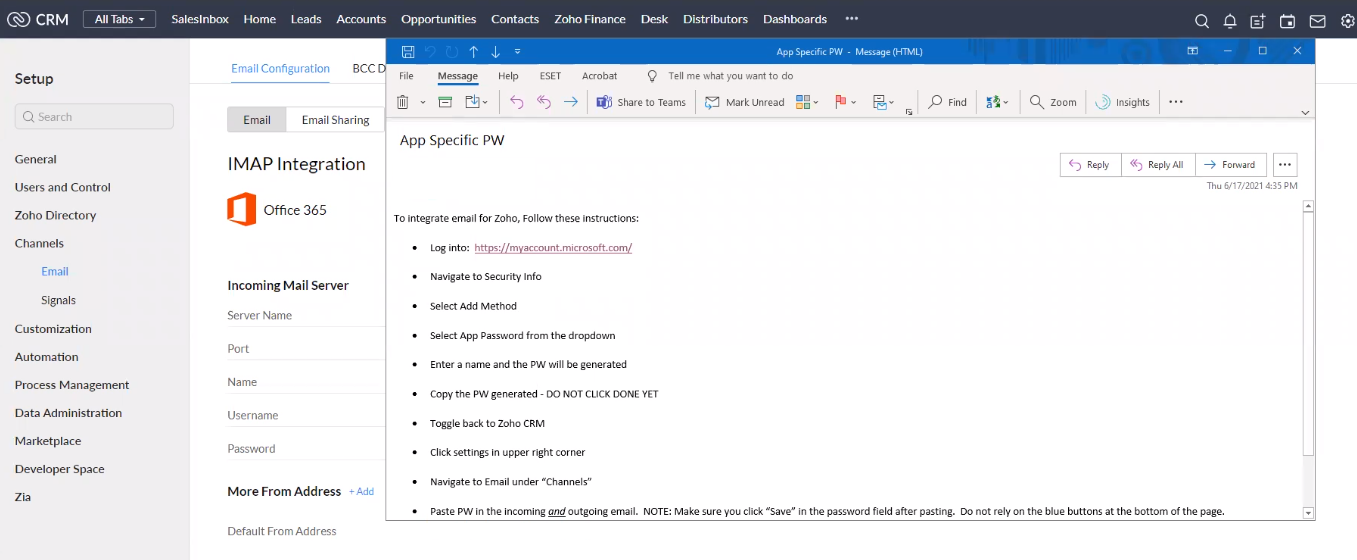 Related Articles

Setting Up Zoho App Specific Passwords

When Two-Factor Authentication is in place with other Apps that need to communicate with Zoho, Users will need to take staeps to establish that connection... click the link below to see a general knowledgbase articel on how to accomplish this with ...

Zoho CRM Email Connections Overview Video

Click to view a short video on how to set up your email connectivity to Zoho CRM

Get Ready to Sell on the Go with Zoho Mobile

A mobile CRM is not a downsized version of the desktop CRM. It's a more specialized and dedicated platform aimed at higher productivity. In the mobile version, you concentrate on what matters most. In this ebook, find out about the useful features ...

Setting up Email Sharing Permissions in Zoho CRM

Setting up Email Sharing Permissions Emails exchanged with customers contain important information that may be required for reference by several other teams who are involved in the business process. For example, a contract agreement exchanged with a ...

Recent Zoho Enhancements to CRM Email Deliverability

Posted by Zoho: We're thrilled to talk about the enhancements that are coming up to improve Zoho CRM's email deliverability, as well as the systems we have in place today to support our customers' email communications. As you might know, our current ...